Bank of China U.S.A. Celebrates AAPI Heritage Month
News
On April 28, in honor of the upcoming Asian American and Pacific Islanders (AAPI) Heritage Month, Bank of China U.S.A. and the China General Chamber of Commerce-USA (CGCC) jointly held a celebration at the Bank of China Building in New York City. Among the distinguished guests were Eileen Gu, the 2022 Beijing Winter Olympics Freestyle Skiing World Champion, Ambassador Ping Huang, Chinese Consul General in New York, and Eric Adams, Mayor of New York City. The event included a group of panelists featuring esteemed leaders in the Asian-Pacific American community, including Candy Nip, Director of the Hong Kong Economic and Trade Office in New York, Li Chung (Sandi) Pei, Founder of PEI Architects, Chatterjee (Joy) Bhaswar, Managing Director and Co-head of Americas Credit Syndicate of Natixis, that spoke about the many contributions of Asian and Pacific Americans in the United States and opposition to anti-Asian discrimination. Over a hundred guests, including clients of the bank and representatives of CGCC member companies attended.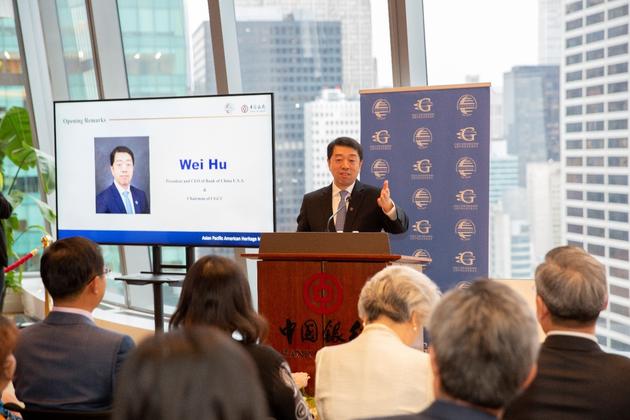 In his opening remarks, Mr. Wei Hu, President and CEO of Bank of China U.S.A. and Chairman of CGCC, paid tribute to the contributions that Asian Pacific Americans have always made to the social and economic development of the United States. He stated that the AAPI Heritage Month is more than just a celebration; it is also a call to action to amplify the voices of Asian and Pacific Islander Americans, to stand against discrimination and prejudice, and to work together to create a more inclusive and equitable society for all. He praised Eileen Gu's efforts and achievements as a living example of an Asian Pacific American making history.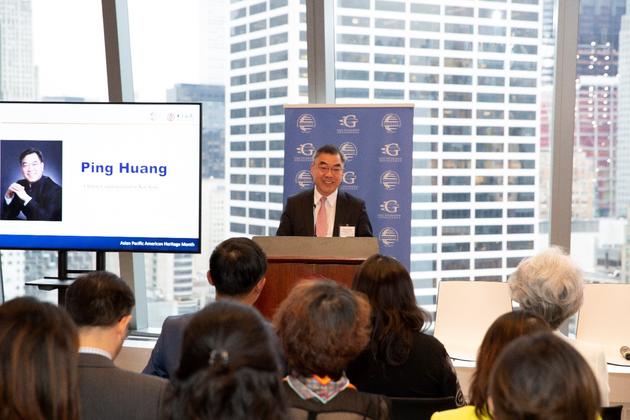 Consul General Ping Huang thanked the Bank of China U.S.A. and CGCC for their roles as commercial bridges bringing the US and China together and praised their efforts to promote cooperation and exchange between the two countries. He said that the beauty of American diversity is enhanced by Eastern civilization, and he applauded the relentless efforts and outstanding achievements of Asian Americans in the United States.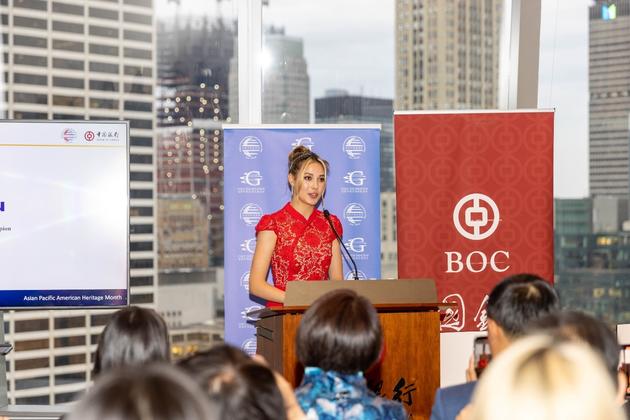 Eileen Gu shared her Beijing Winter Olympic Gold Medal story through the lens of her experience growing up exposed to both American and Chinese cultures. Having experienced discrimination and cyberbullying firsthand, she hopes to uplift young people to cultivate their own confidence in the face of hatred, discrimination, and inequality. Eileen advocates that young people stand up not only for their own rights, but also for those of any discriminated-against people, regardless of age, gender, or race. She seeks to highlight the importance of human solidarity, mutual support, communication, and understanding among different ethnicities, in order to facilitate cultural exchange. We not only need to coexist, but we also need to put in the work to thrive together by realizing that we are stronger together not despite our differences, but because of them.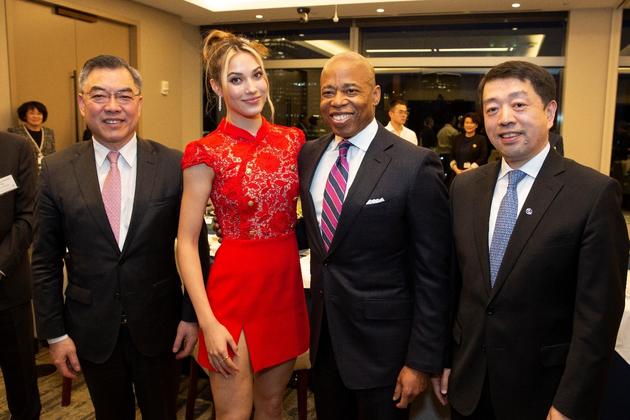 (From left to right: Consul General Ping Huang, Eileen Gu, Mayor Adams, President Wei Hu)
Mayor Adams of New York City also attended the event near its conclusion to congratulate the hosts on the successful celebration and express his support for the AAPI community. He praised Eileen Gu for being a consummate champion-on the slopes and off.
Asian and American students from the Juilliard School also gave an exhilarating performance based on Asian music during the event.
Bank of China U.S.A. is committed to building a diverse, equal, and inclusive (DEI) culture and is dedicated to constructing a responsible banking institution in the areas of Environment, Social, and Governance (ESG).