Bank of China U.S.A.'s Chicago Branch Awarded 2021-2022 Social Responsibility and Contribution Award by the CGCC U.S.A.-Chicago
News
On December 8, 2022, the China General Chamber of Commerce U.S.A. – Chicago held its Annual Gala. China's Ambassador to the United States, Mr. Gang Qin, Consulate General of China in Chicago Jian Zhao, U.S. Secretary of Commerce Gina Raimondo, Chicago Mayor Lori Lightfoot, and U.S. Representative for Illinois's 8th Congressional District Raja Krishnamoorthi, attended the gala and delivered congratulatory remarks. Approximately 500 attendees from all sectors of the U.S. and Chinese communities participated in the event.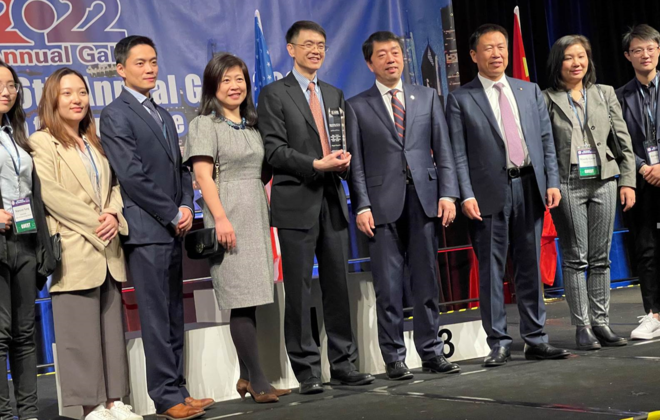 BOC's U.S.A. – Chicago Branch was awarded the 2021-2022 Social Responsibility and Contribution Award at the event, a reflection of the bank's long-standing commitment to serving the local community, contributing to corporate development and investing in socially impactful areas. BOC U.S.A. prides itself on being a "Global Bank with a Local Heart". The bank actively promotes national and local economic growth through financing, directly and indirectly supporting thousands of jobs in Chicago and across the United States. As the only China-based bank in the Midwest, BOC U.S.A.'s Chicago Branch recognizes its important cultural role in the Chicago community, providing significant financial support to local enterprises and engaging with local residents.
As a core member of the China General Chamber of Commerce U.S.A - Chicago, BOC U.S.A.'s Chicago Branch is dedicated to supporting initiatives that bring people together to create a positive impact on the environment, society and the communities they serve. BOC U.S.A. will continue to carry out its social responsibility, actively promote economic development, and contribute to improving U.S.-China relations and promoting U.S.-China cooperation, while maintaining steady and sustainable business development.