CORPORATE PROFILE
We bring a strong client-focused culture and professional service to our U.S. customers, as we support their businesses or personal goals domestically, and around the world.
Message from our CEO
For the past 40 years, the United States and China have built economic ties that have advanced businesses and communities in both countries. The growth of the world's two largest economies has been driven by mutual cooperation and trade relations that have benefited industries and people around the globe. And even when trade relations have strained, companies in both the U.S. and China have worked together to pursue greater collaboration, whether through investments or expansion, to maximize the potential for growth in both economies while creating enormous benefits for businesses and consumers. 
Bank of China U.S.A. plays an important role in this critical relationship between the U.S. and China. As one of the world's largest banks and the first Chinese bank to enter the U.S. market, our global network empowers businesses and people from both countries to navigate the complex global trade and supply chain environment.  This enables our clients to enter new markets from positions of strength and scalability. We are experts and leaders in U.S. Dollar and RMB settlement, cross-border investments, commodities and trade, making us the premier bank for accessing the world's second largest economy. Nevertheless, our investments and services go far beyond U.S. and Chinese trade and finance. As a leading international banking institution, we have worked hard to build for more than 110 years both in China and around the globe a strong reputation and track record for success, reliability, and professional services.
We bring more than four decades of experience securing first-class deals in the U.S. market, and are proud to partner with many Fortune 500 companies, homegrown enterprises, financial institutions and high net-worth individuals to support their domestic and global business objectives.
At our core is a client-centric approach that combines tailored solutions and customized market insights with leading-edge technologies to ensure that our clients' needs are met efficiently and effectively. We do not believe in a one size fits all approach, and as market needs change so do our investments in technology, data analytics and artificial intelligence. These tools and systems result in greater increased efficiency and streamlined processing times that provide our clients the advantages they need in today's fast-pace and often times volatile market place. We have also developed and maintained a culture committed to sound risk assessment, sustainable and value-creating growth, trusted relationships with our community and a principled and transparent governance framework.
We also understand that as a responsible business, we must assess the environmental, social and governance factors at work in every decision we make. These considerations play an important role in how we serve the U.S. market both through our business capabilities and our commitment to helping the communities in which we live and operate. Since the outbreak of the Covid-19 pandemic, we have helped mitigate the impact of COVID-19 by contributing funds to various non-profit organizations, donating personal protective equipment to first responders and local communities, and granting emergency loans to enterprises engaged in epidemic prevention and control. In recent years, we have invested more than $2 billion to local neighborhoods by participating in community reinvestment efforts to reverse urban blight and supporting local charities, hospitals and many other non-profit organizations.
Since we first established operations in the U.S., Bank of China U.S.A. has been closely tied to U.S. and Chinese investment and trade cooperation. We understand that maintaining mutually beneficial relations actually serves the whole world, and we strive to continue playing a leading role in building a bridge between both countries' business communities. However, our products and services transcend the dynamics of the US-China trade relationship, and our commitment to supporting your needs domestically and around the globe is equally important. To our existing clients, we thank you for entrusting us with your business. We look forward to building and expanding new partnerships, supporting innovative solutions and sustainable growth for today and future generations.
Thank you,
Hu  Wei
President and Chief Executive Officer, Bank of China U.S.A.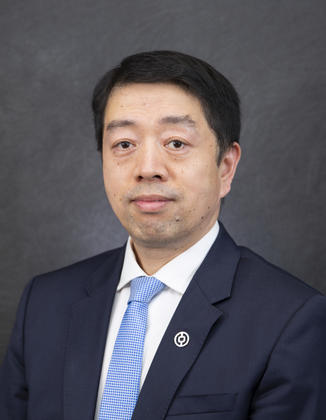 ABOUT BANK OF CHINA U.S.A.
BOC U.S.A. specializes in Corporate Lending, Trade Services, Global Markets and Currencies, U.S. Dollar Clearing and Personal Banking, by creating premium solutions for Chinese companies operating in the U.S., Fortune 500 companies, U.S. home-grown enterprises, financial institutions and high net-worth individuals.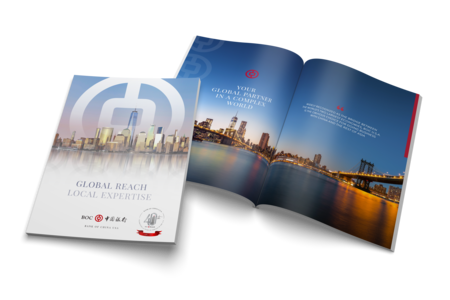 Key Milestones
Since our founding more than 100 years ago, BOC has grown into a truly global bank with a history that follows China's continued integration with the global economy.
View History and Heritage
Founding of Bank of China:
1912
BOC began operations as China's central bank
Expanded Overseas:
1929
Established BOC's London agency, the bank's first overseas branch
Established in the U.S.:
1981
Opened the BOC New York branch, becoming the first Chinese bank to establish operations in the U.S.
Successful IPO in Hong Kong and Mainland China:
2006
Became the first Chinese commercial bank to launch an A-Share and H-Share initial public offering and achieve a dual listing in both markets
2008 Olympic Partner:
2008
Designated sole, official banking partner of the 2008 Beijing Olympic Games
America's First RMB Clearing Bank:
2016
BOC New York branch designated as the first RMB clearing bank in the U.S.
2022 Olympic Partner:
2020
Announced as the first official partner of the 2022 Beijing Olympic and Paralympic Winter Games
STABLE PERFORMANCE
We strive to continue strengthening the bridge between U.S. and Chinese businesses and to play an integral role in the communities in which we serve and operate. 
Our international perspective and global reach allow us to enhance efficiencies while facilitating cooperation, trust and exchange between U.S. and Chinese clients, domestically and around the world.
Community &
Social Responsibility (CSR)
Responsibility, Integrity and Cooperation
trust, exchange, and cooperation
Responsibility, Integrity and Cooperation
trust, exchange, and cooperation
trust, exchange, and cooperation
trust, exchange, and cooperation
global bank,
local heart
Our CSR programs are guided by BOC's commitment to be a responsible corporate citizen and to serve our communities in order to create more economic value and improve people's lives. We are dedicated to supporting local organizations that bring people together and make meaningful contributions to society overall.
Learn more